Lantern Roofs
Surrey, Hampshire & Berkshire
Lantern roofs and skylights do so much more than simply lighten and brighten up a room. They immediately create a feeling of luxury and opulence in any room you find them, turning heads and creating conversation. Enjoy the night sky from the luxury of your living room, orangery, or if you're feeling adventurous, even your bedroom. Get more sky and less roof with a skylight or lantern roof from Camberley Glass.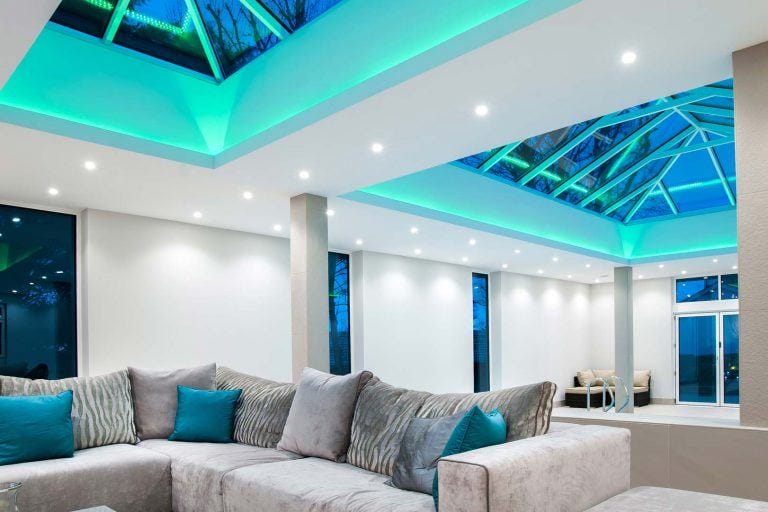 Looking for skylights or a lantern roof in Surrey? You've made the right choice.
Our roofs are leading the way in rooflight, lantern roof, and orangery design, giving you the ultimate and unrivalled view from your home and extension with supreme aerial views.  This, combined with industry-leading thermal performance, ensures that you can use your conservatory, orangery, or extension 365 days a year.
Thinner Stronger Lighter – less is definitely more for Surrey homes when it comes to our lantern roofs.  No clunky bars or supports cluttering the ridge and no thick, chunky profiles dominating the glazing.  Our unique system design is pure engineering magic. Super light and strong 40mm aluminium frame rafters create slim, elegant roof profiles with excellent thermal performance.
Compared to conventional roofs sold by competitors, Camberley Glass slashes the visible width and sight rafters by 30% and the main internal feature ridge by 70%. This unique design creates a feeling of MORE SKY – LESS ROOF, providing a visible elegance to your roof design and appearance. Whether you choose an all-aluminium structure or PVCu capping – less is so much more.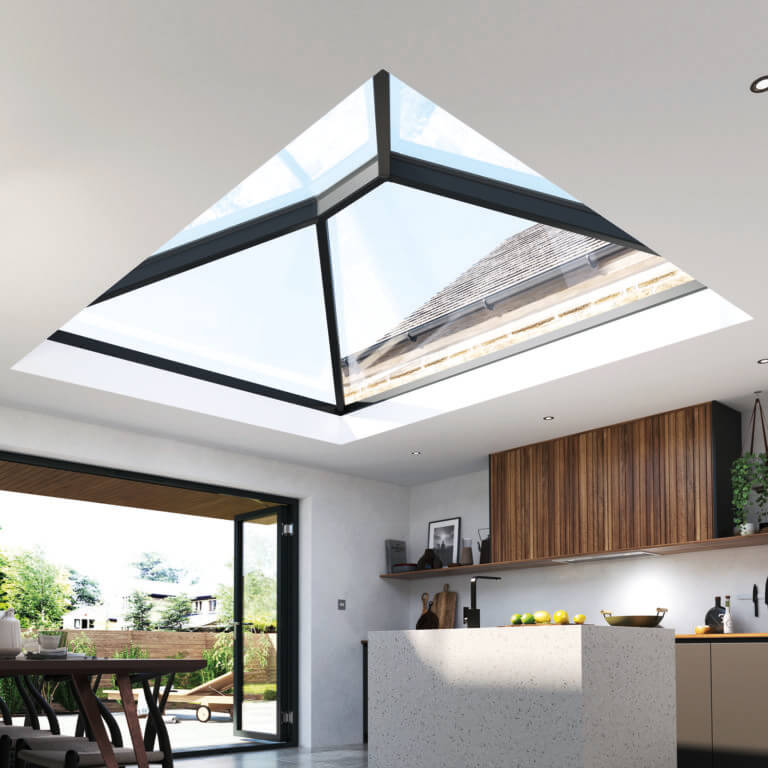 The slimline thermally-broken aluminium rafter sections have a sleek appearance that brings a stylish ambience and modern finish while maximising the use of light and space within your home. Their discreet tie bars provide extra structural rigidity without detracting from the sense of light and space. 
Our three-roof construction options provide the perfect roof for any property or scheme. By keeping sight lines low and unobtrusive, we ensure that even a large glazed roof structure won't overdominate a plot or seem out of place.
Ask about our Lantern Roof and Bifold Door package deals.
Your home is unique, and any additions you decide to make should reflect that. At Camberley Glass & Windows, we have a reputation for going out of our way to ensure that your products not only meet but exceed your expectations in every way. 
When it comes to investing in your home or office, we're so much more than simply a vendor of pre-made products. Our dedicated in-house design team works closely with you to come up with a lantern roof design that complements the existing structure and enhances its aesthetic appeal. This freedom of choice also allows you to include any desirable features, such as speciality-treated glass, tints, opening and shutting mechanisms, and even automation options. 
No matter what setup or combination of features you choose, you can rest assured that your lantern roof will be made with nothing but the highest quality materials and meet the strictest quality control standards. This means minimal upkeep and maintenance in the years to come and a lifetime of sunlight, blue skies, and warm, inviting rooms to enjoy.
The benefits of ROOF LANTERNS​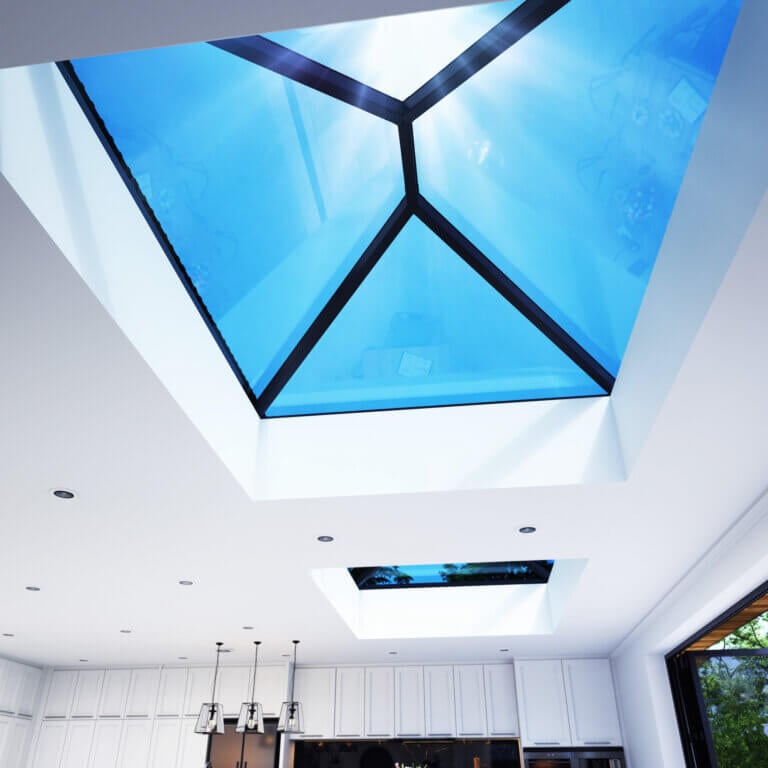 The benefits of indoor spaces that are well-lit by natural light have been discussed and proven many times over. It lifts the mood, increases our mental state and happiness, makes us more productive, and leads to better sleep. Few other home features even come close to skylights and lantern roofs in providing all of these benefits in one go. Combine all of these benefits with more aesthetically pleasing and comfortable spaces, and it's easy to see why skylights and lantern roofs are such popular features with designers and architects.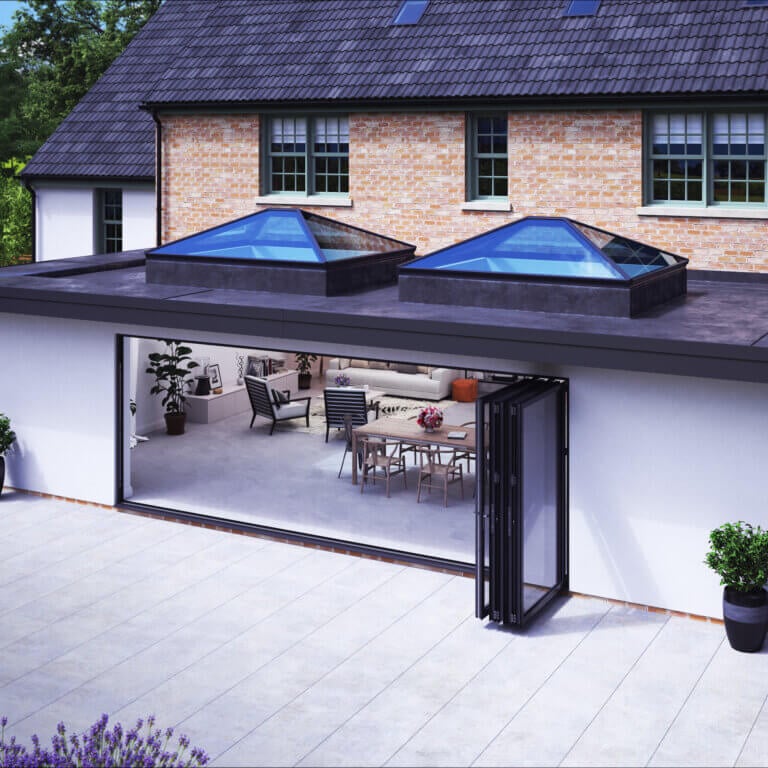 With skylights and lantern roofs being such desirable home features, they naturally increase property value. Not only do they create the comforting and comfortable spaces we all want, they also look beautiful in their own right, and in the long run, can help save money on artificial lighting that drives up your power bill. These three factors combine to give you a bit more bargaining power should you ever decide to sell your property.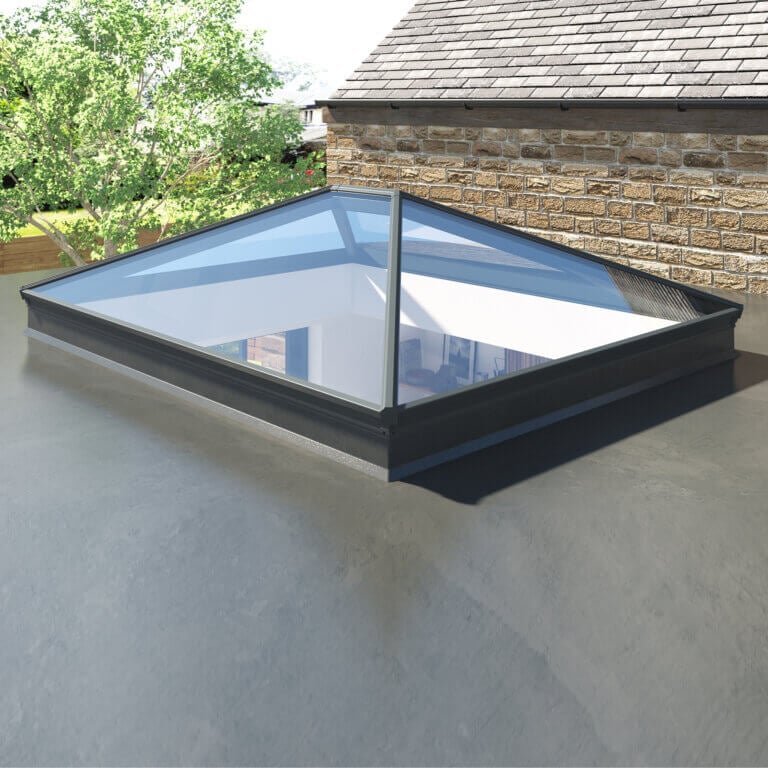 When installing skylights and lantern roofs, you absolutely want it done right the first time. Poorly installed roof features can cause a lot of problems down the line if they start leaking, condensing, or warping. Camberley Glass & Windows has decades of experience installing all manner of skylights and lantern roofs, and we refuse to use anything but the best products available on the British market. With Camberley Glass, you can rest assured that your purchase will bring you all of the benefits as advertised, with none of the headache.
FAQs about roof lanterns in Surrey
Request a free quotation with absolutely no obligation to buy. Use our convenient contact form or call us directly on 01276 684444.
You may also be interested in
Why Camberley Glass & Windows
Exceptional quality and service matched with affordability