At the core of our business and deeply engrained in our roots, we have been providing glazing services to our clientele for more than five decades. We believe in customer satisfaction, keeping up-to-date with industry changes and giving our customers value for money. We can deal with anything from a large commercial reglaze to a small domestic job, with bespoke glass products and quality advice.
Our bespoke glazing services include: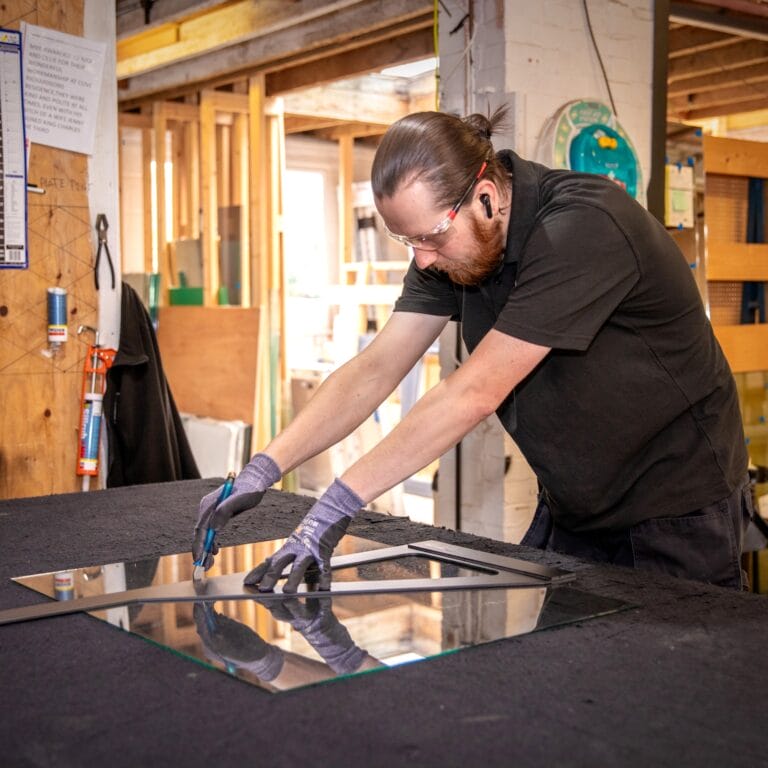 Glass cut to size
As a leading glass supplier, Camberley Glass & Windows is fully equipped to fulfil all your glass needs. We keep a wide and diverse range of inventory from leading suppliers (including the popular Pilkington Textured Range) on hand, and we also specialise in creating bespoke pieces tailored to your exact specifications. From picture frame glass to shop fronts, greenhouses, custom shelving, or tabletops, our modern precision cutting technology allows us to produce an array of shapes and sizes suited for any application or project.
Bespoke implies choice, and our glass expert will gladly guide you through the process to ensure you get exactly what you came looking for. The glass type, shape, size, coatings, and edging are all custom configured for your project. We have mirrored, laminated, and toughened glass available in thicknesses ranging between 2mm and 8.8mm, and have the equipment to pre-drill holes and cutouts. Our onsite cutter can cut while you wait, or contact us to pre-order for a quick pickup.
Glass cutting by Camberley Glass & Windows
For ALL your glass cutting needs
Servicing our clients' glazing needs has been our bread and butter for almost 6 decades. With our wealth of experience there is no glazing job too big or small, simple or complex, for us to handle. Whether you're renovating an older home as part of a big project, repairing a simple broken window, or looking to install a glass facade on a new building; Camberley Glass & Windows has got you covered. Simply put, if it involves glass, we're the experts you've been looking for.
Custom glass for custom jobs
Not all glazing is created equal, and it takes an expert eye to fit the right pane in the right place. Camberley Glass & Windows offers glazing services that meet whatever standards your project needs to comply with. Whether that means fire resistance, high levels of security, increased privacy, custom artwork & design, UV or environmental resistance; we've got the products you need and the skills to install and fit them right the first time.
Putting our customers' needs first
Customer satisfaction is our highest priority. We understand that construction and renovation projects can be stressful under the best of circumstances, so we've dedicated ourselves to providing prompt and professional service to make it as easy as possible. Our friendly and experienced sales team stands ready to help you explore all your options without pressure or obligation; our in-house design team will ensure that the project comes together beautifully; and our massively experienced fitters will ensure that it's all put together correctly the first time.
Request a free quotation with absolutely no obligation to buy. Use our convenient contact form or call us directly on 01276 684444.
Why Camberley Glass & Windows
Exceptional quality and service matched with affordability