Conservatory Roof Replacement
Why Conservatory Roof Replacement
Replacing your conservatory roof can make all the difference in how you experience your conservatory. Make yours more inviting in both the summer and winter, while increasing its visual appeal and your property value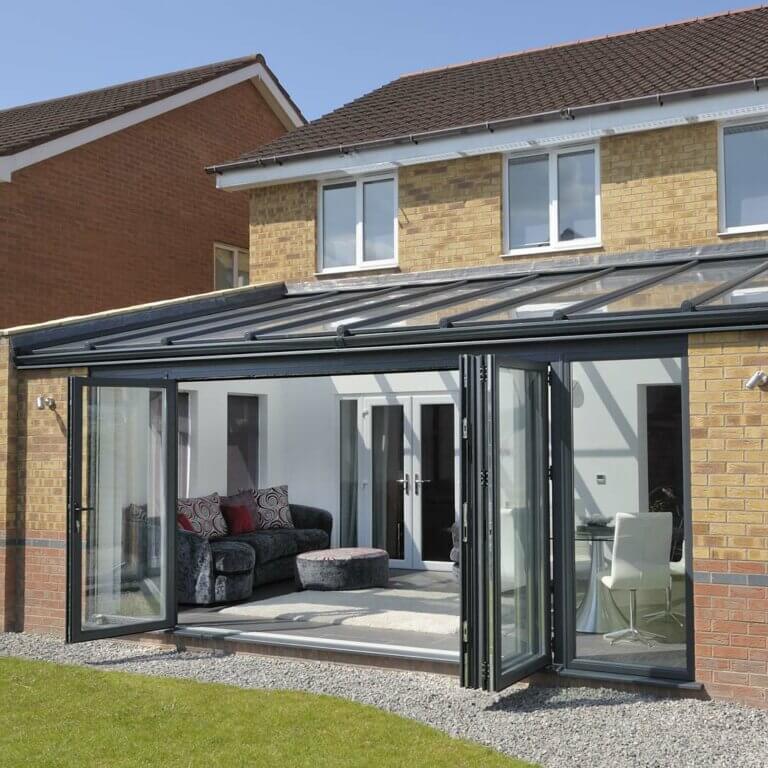 Conservatories are really great additions to a house providing the opportunity for extra space and a room where you can catch the sun, which is very useful in spring and autumn days. You might, however, have found that your conservatory roof is looking a bit the worse for wear and needs upgrading or that your conservatory is not performing as you hoped it would.
The common problem people find is that their conservatory is too hot in the summer and too cold in the winter, and so it ends up as a storage room because it cannot be used to its full potential.
We at Camberley Glass and Windows have recognised this problem and now have a solution which will allow you to use your conservatory all the year round for the purpose it was intended – as a lovely extra room where you can sit and relax and enjoy views over your garden.
We are now able to provide a roof upgrade which will transform your conservatory. The key aspect of our range of roof upgrades is that it will keep your conservatory warm in the winter and cool in the summer so that you can enjoy the benefits of your conservatory all the year round.
You can decide whether you want a specially developed glass roof, a solid lightweight roof or a combination of solid and glass.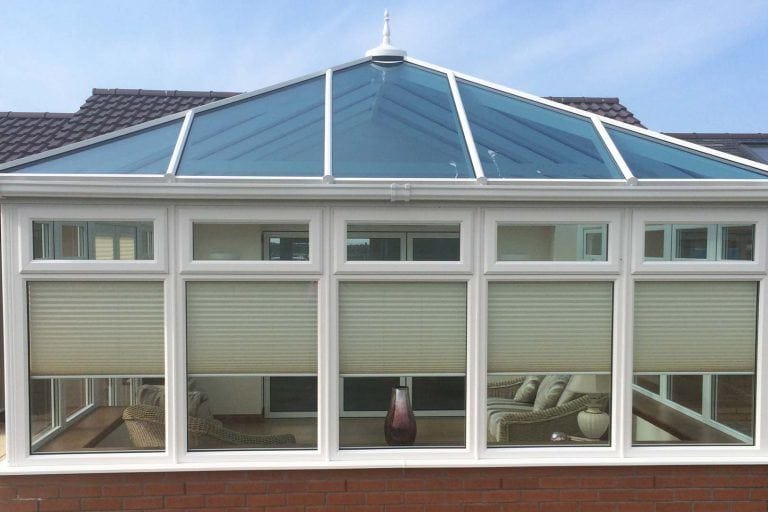 Our K2 glass roof upgrade is a perfect choice if you want to retain as much light as possible in your conservatory. Perhaps you already have old fashioned glass or polycarbonate roof glazing and have now discovered its disadvantages; how it has worn over the years, how thermally inefficient it is and the difficulties of maintenance.
Now could be the time to upgrade your conservatory with a customised fully glazed roof provided by Camberley Glass and Windows. The glazing we use for our upgrades comprises a high-performance glass specially developed for use in conservatory roofs. This Celsius glass has a special Low-E and Solar control coating with an argon-filled cavity which controls the amount of UV, visible light and heat passing through the glass panels. This results in both heat reflection and thermal insulation so that in the summer it will deflect heat away from the conservatory and in winter it will reflect heat back into your home.
There are added advantages in that it reduces the harmful effects of UV light rays by about 88% and also provides better sound insulation so that traffic and even rain noise is reduced when compared to 25mm polycarbonate products. Maintenance chores are less onerous too due to its special Easy Clean coating which reduces the need for cleaning by about 70% over standard glass. The Easy Clean system prevents dirt and bacteria sticking to the window, protects from organic and inorganic contamination and resists the staining caused by hard water resulting in windows which stay cleaner longer.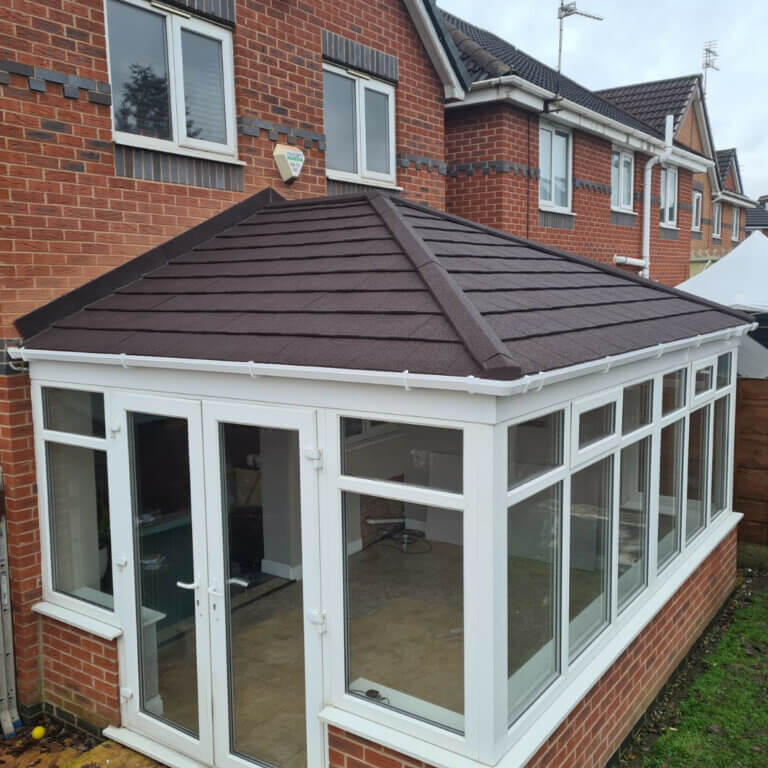 If, on the other hand, you decide that a solid roof is what you need, there is no better choice than our tile effect Warmer Roof system. These roofs are specially designed for use in conservatories and are amongst the most popular conservatory roof upgrades on the market. They are both stronger and lighter than your original conservatory glass. Whether you want to replace an existing roof or are considering a roof for your new build conservatory, you couldn't do better than Warmer Roof. The key to their success is the ability to regulate temperature and thereby providing what you have been looking for in thermal efficiency.
This solid roof not only performs wonderfully well but looks great too. It is made from lightweight high-grade coated steel which gives it outstanding strength and resistance. The interior of the build has several layers of insulation on top of plasterboard creating a wonderfully insulated structure ready for interior decoration and the final finishing touches. On the outside, a tile effect or slate finish is available in a number of traditional colours which will match your existing house roof.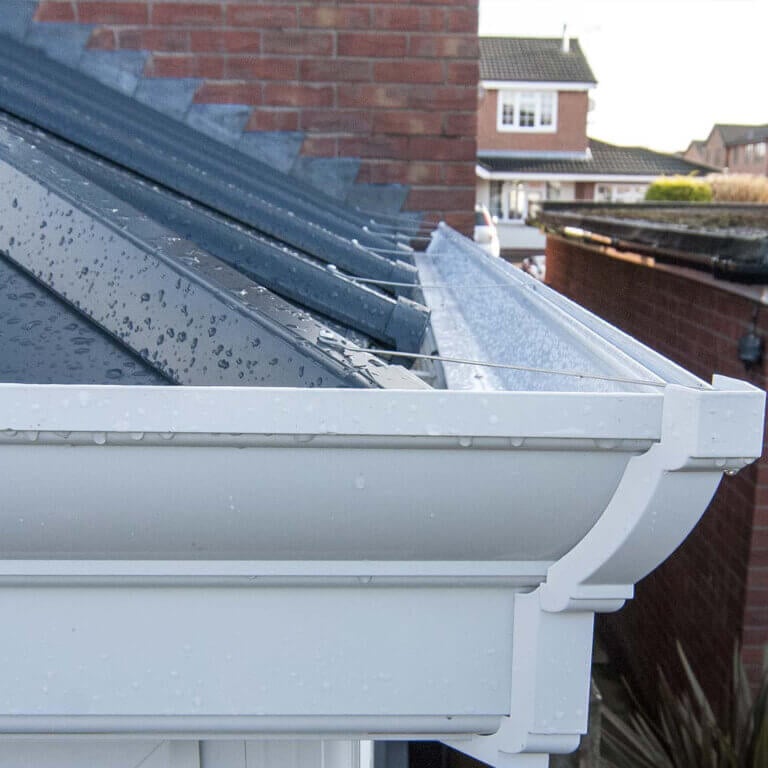 The added bonus is that the Warmer Roof system is incredibly straightforward, usually taking only three days to install, and is available for any style of conservatory. There is even a bespoke design option.
If you want to have a part solid part glass roof that is not a problem with Warmer Roof. This roof is a perfect partner for skylights or Camberley Glass and Windows aluminium flat rooflights, which can be added in any configuration you want.
Why not find out more about the Warmer Roof, it really is a superb option for a conservatory roof upgrade or new build and could be exactly what you are looking for. Get in touch with Camberley Glass and Windows now to find the appropriate solution for you and your conservatory.
The benefits of upgrading your conservatory roof
Over time, conservatory roofing materials may degrade due to weather and other environmental effects, causing tiny cracks and vents to open up. Older conservatories are often built from aged building materials with poor insulative and thermal properties. Both of these factors inevitably end up increasing your heating bill, year after year. It also takes away the fun of having a conservatory in the first place!
Unwanted cold draughts in the winter and trapped wet heat in the summer can quickly turn a conservatory into a room to avoid for half the year. A conservatory should be the highlight of the home, and a new roof can help you enjoy it year-round. Move the party from the living room to the conservatory without worrying if your guests will be too hot or cold. Camberley Glass & Windows can help keep your orangery or conservatory warm in the winter, and comfortable in the summer.
Our roofing company has the experience and expertise to help you replace your conservatory roof. With over 25 years of experience in the industry, we have the knowledge and skills to work on any building style; modern, traditional, or bespoke. Our team of professionals will ensure that your conservatory roof is replaced with the highest quality materials and craftsmanship, in a timely manner with minimum disruption. We don't use cookie-cutter solutions but instead work with each client to help them achieve their vision.
Request a free quotation with absolutely no obligation to buy. Use our convenient contact form or call us directly on 01276 684444.
Why Camberley Glass & Windows
Exceptional quality and service matched with affordability