Looking for Surrey bifold doors? A Bi-Folding door is more than just a conventional sliding door. With its sleek design it is able to create more space and harness the potential of a room whether internally or externally.
When you choose a Bifold door for your Surrey home you cast away the barrier between inside and outside your home, it will effectively transform your living space into a greater social space.
Flexibility is key to the design, Bi-Folding doors can do what conventional door design cannot. It can add and subtract space whilst maintaining the slimmest of profiles.
Find out more about Bifold Doors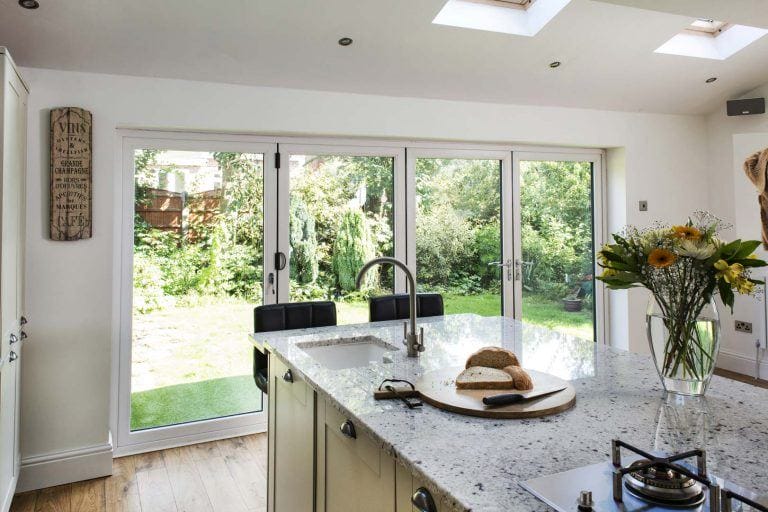 Primary features of Bi-Folding doors include maximising all the available natural light, ensuring excellent thermal efficiency and security. Due to the ingenious design of the sliding track system, the locking system is spread over multiple points of the track – this provides a greater level of security when compared to other types of doors which tend to have one single locking point.
When it comes to bi-fold doors, you need to decide whether you require a 'top-hung' or 'bottom-rolling' operating system – there are pros and cons for each. There is a variety of configuration options open to you, which will depend on the width of the opening and the widths of panes available.
Available in low maintenance UPVC and Aluminium with a variety of colours. We can help you select the right colour whether you want to blend in with the environment surrounding your home or make a statement – contemporary or traditional, we can find the ideal match. Whatever the style of your Surrey home, we've got the right bifold doors for you.
Request a free quotation with absolutely no obligation to buy. Use our convenient contact form or call us directly on 01276 684444.
You may also be interested in
FAQs about bifold doors in Surrey