Aluminium Flat Rooflights
Why Titan "Edge" Aluminium flat rooflights?
The Titan Edge range of Aluminium flat rooflights is a standout choice for anyone trying to bring more natural light into their home. Their stunning edge-to-edge glass design and spectacular technical performance wow our clients every time!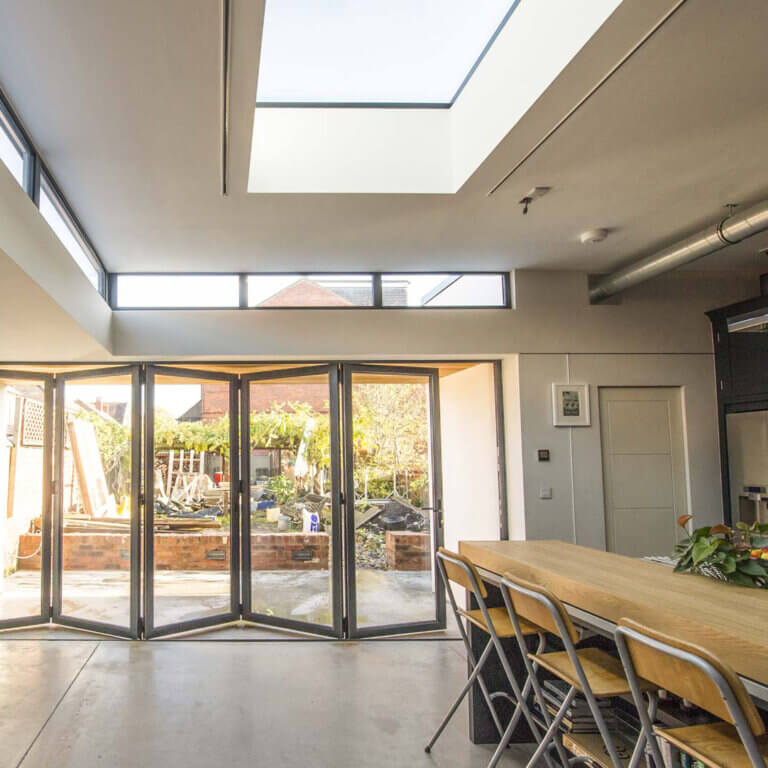 Flat rooflights are an excellent addition to any home and can solve a range of problems we experience here in the UK. They help brighten up a dark home with unobstructed natural sunlight, allow a breeze to blow through rooms without windows, and can help reduce heating costs by reducing the need for artificial daytime light.
Many of our clients here at Camberley Glass & Windows prefer the Titan Edge range of flat roof products. These UK-designed and manufactured products feature stunning edge-to-edge glass panels with the latest treatments and technologies to ensure a lifetime of performance with minimal maintenance.
Our accredited team of fitters can help brighten up your home with a range of Titan Edge products based on your needs. We have experience fitting these products to all types of roofs and can help you match your rooflights to your home's existing style. The modern design of Titan Edge products also means that we can usually fit the light within a day or two, minimising any inconvenience to you.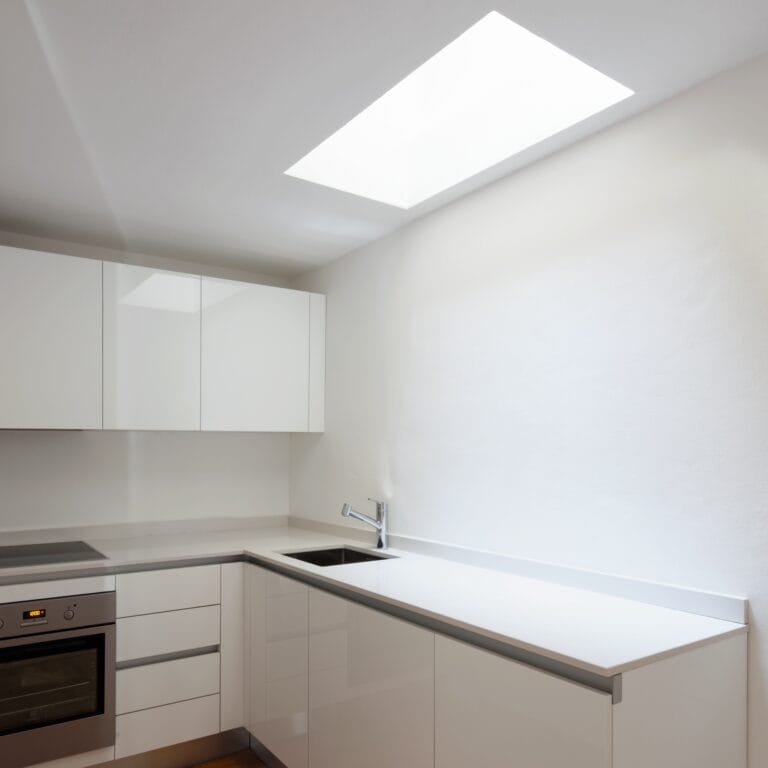 The Titan Edge is used cleverly in a variety of applications. In addition to fixed flat rooflights, they also produce products for special applications and with special features.
The Titan Edge Air opens up to 300mm using a concealed, near-silent actuator. It can be operated using either a remote control, wall-mounted switch, or manual winder. Optional extras such as rain sensors and thermostatic controls mean you never have to worry about open rooflights when the temperature drops or rain threatens. The Titan Edge Air shares all of the other benefits of the Titan Edge range, sacrificing nothing in terms of quality or benefits.
Titan Edge Multipanes are perfect for larger building or renovation projects. Their innovative design allows them to sit flush from edge to edge, creating unobstructed sky vistas and allowing for the maximum amount of light to enter the room below. Their clever design means a quick and easy installation without the need for specialist lifting equipment,
The Titan Edge Walkon range features triple-layered 10mm toughened security glass in clear, opaque, sandblasted or textured anti-slip finishes. They're a great way to liven and lighten up the room below, while still allowing you to move unobstructed about your balcony, sundeck or other flat roofs that need pedestrian access.
Whatever your flat rooflight needs are, Titan Edge has you covered.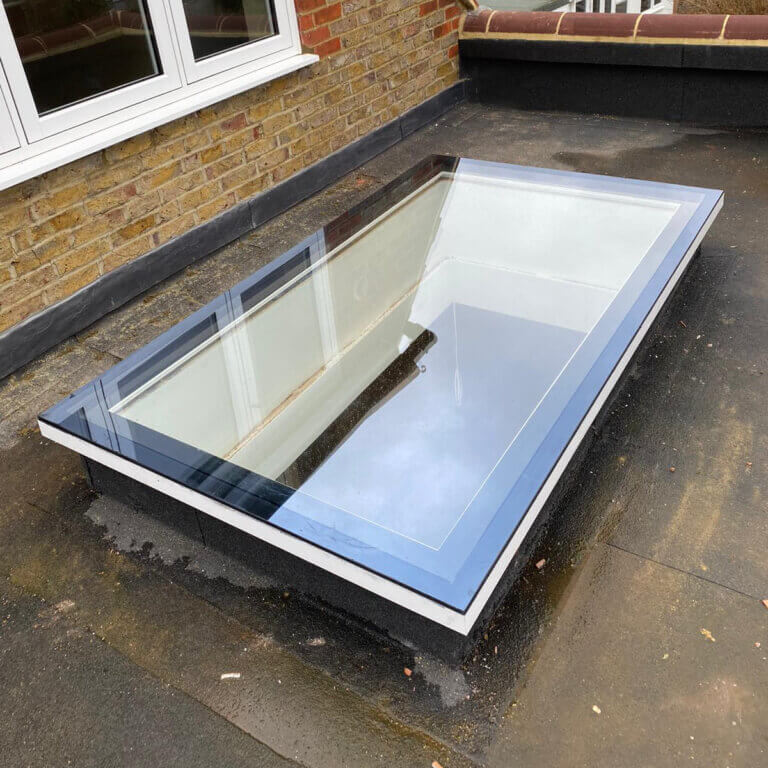 The quality of flat rooflight products you install in your home could have major impacts down the road. Poor quality products will lead to frustration as they start leaking, misting up, or stop operating the way you expect them to. It also has financial implications as you spend more money on avoidable heating bills and costly repairs.
You can expect your Titan Edge products to be a one-time purchase, saving future you time and hassle.
In addition to their primary function of creating warm, well-lit and inviting interior spaces, Titan Edge Flat Rooflights are guaranteed to keep their performance for years to come. This performance refers to a variety of metrics, all aced by Titan. You can expect thermal U-values of 1.3 w/m2k, ensuring minimal heat transfer across the panels for a comfortable space year-round. Superior acoustic performance means you won't be bothered by outside noises, and their toughened, shatterproof glass means increased security for you and yours.
If you expect performance that lasts, choose Titan.
The benefits of Titan "Edge" Aluminium flat rooflights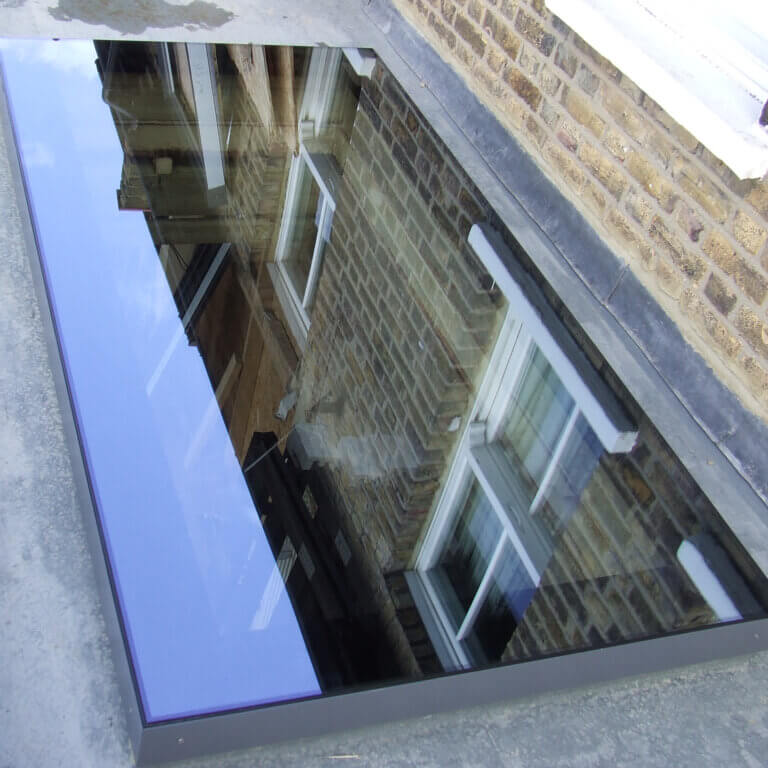 Low-maintenance and cleaning
The Titan Edge range of Flat Rooflight products features clever design choices that reduce the need for both cleaning and maintenance. Their edge-to-edge glass panel design means that rain can simply glide off without getting caught in a protruding frame or sealants. This avoids those nasty puddles that sometimes form on framed rooflights. Other clever features like hidden actuators protect them from dust or otherwise being damaged, leading to lower maintenance needs, and giving you more time to enjoy your now-sunbathed room.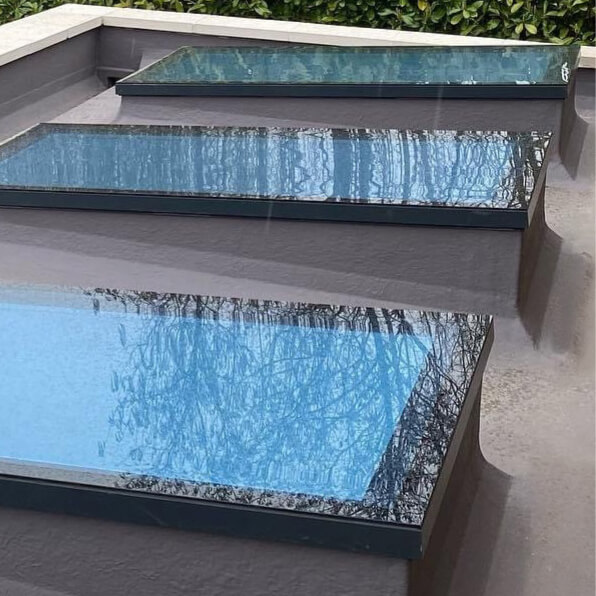 While a rooflight could easily be seen as a security risk, providing easy access for intruders, Titan Edge products have no such weaknesses. Their sturdy aluminium frames, toughened heat-treated glass, alongside Camberley Glass & Windows' professional installation practices mean that you get to enjoy all the benefits of rooflights without worry.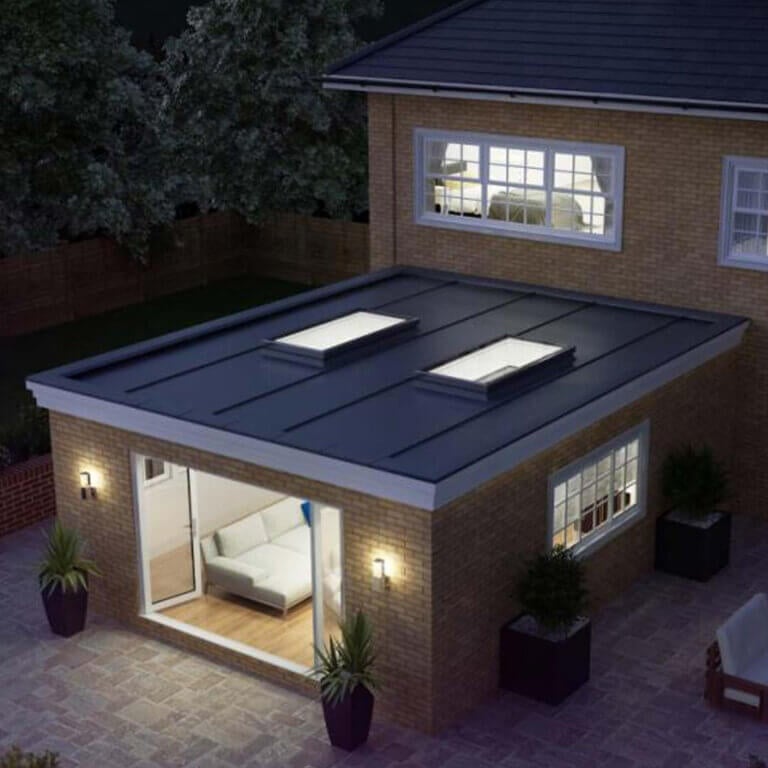 Titan Edge Flat Rooflight products have helped many UK homeowners get more out of their homes by making them lighter, brighter and more inviting. Rooflights allow more direct natural sunlight to enter your home without sacrificing privacy, natural sunlight that is proven to lift moods and spirits. Contact Camberley Glass & Windows today for obligation-free, personalised advice on how Titan Edge products can help make your home more welcoming.
Request a free quotation with absolutely no obligation to buy. Use our convenient contact form or call us directly on 01276 684444.
Why Camberley Glass & Windows
Exceptional quality and service matched with affordability