PVCu doors are a popular option with builders and renovators in the UK. They offer many of the same benefits as more expensive building materials, while at the same time requiring very little in the way of upkeep. Modern PVCu doors are available in a wide range of colours and finishes, making them visually appealing as well.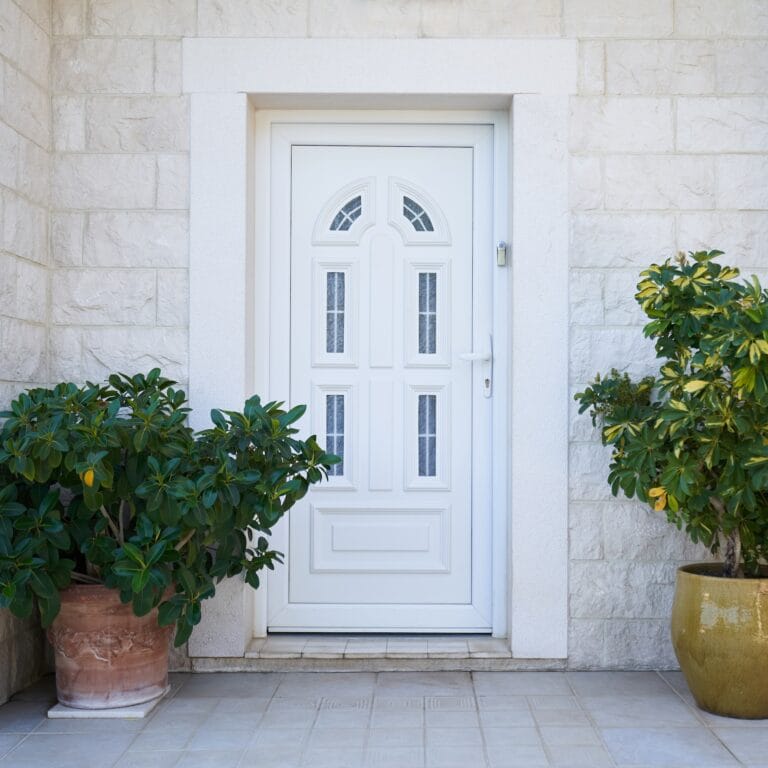 PVCu has cemented itself as a popular building material in the UK, and with good reason. Advances in material sciences and manufacturing techniques have made PVCu doors, window frames and other home furnishings a viable and cost-effective alternative to aluminium and timber options, without sacrificing the desirable qualities of these more-expensive materials.
PVCu doors from Camberley Glass & Windows are guaranteed to meet all of your demands, including being robust and secure, being able to handle everything the British weather can throw at it, and being resistant to cracking, weathering and warping. Our range of PVCu doors is available in the colour you want, with a wide range of textured finishes to match your home or new building development. They offer value for money that simply can't be matched.
The benefits of PVCu doors
Building and renovation projects tend to be pricey affairs, and it's reasonable to try to cut down on unnecessary expenses. PVCu doors (and other PVCu products from Camberley Glass) are a great way of doing this without sacrificing quality and performance. Whether you're looking for a less-expensive option for a door that rarely gets used, or need dozens or even hundreds of doors for a large-scale building project, our expert consultants can help you save time and money with a selection of cost-efficient PVCu products.
PVCu doors can fairly easily be manufactured to any specification. While off-the-shelf options in a variety of standard shapes are available, custom sizes or even shapes are an option with PVCu. They can also easily be upgraded with optional add-ons such as deadbolts and multi-point locks. This versatility, along with good thermal performance, strength, durability and low maintenance, makes them a popular and versatile option for many homeowners, business owners and construction companies alike.
Selecting the right material, design and styling features for a new building or renovation project can be a stressful endeavour. Camberley Glass & Windows is perfectly positioned to help relieve some of that stress by providing expert, obligation-free advice on our products and services that are best for you. We don't simply push unwanted or unnecessary products and services but listen to our clients' needs to provide personalised professional advice on how to get the most out of your project. Contact us today to find out how our extended range of UPVc products can save you time and money.
Request a free quotation with absolutely no obligation to buy. Use our convenient contact form or call us directly on 01276 684444.
Why Camberley Glass & Windows
Exceptional quality and service matched with affordability