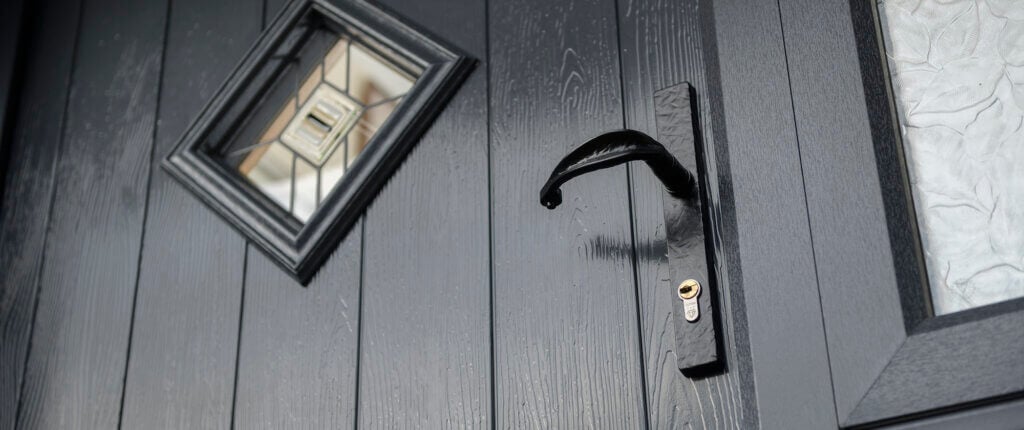 What is a Solidor Timber Composite Door?
Solidor doors provide unparalleled security, insulation, privacy and style; making them the perfect choice for anyone building their dream home, or renovating an older one. They're available with a staggering amount of customisation options, ensuring the ideal match for your home.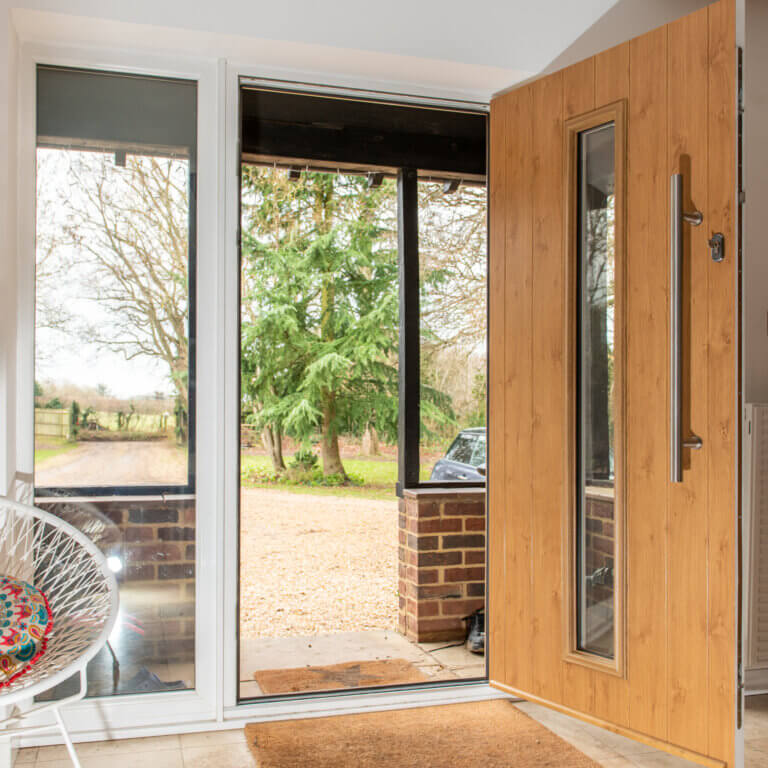 A home's front door is so much more than its function. In addition to separating inside from outside and acting as a barrier against the elements, a well-designed and manufactured front door is a statement. It can help tie the overall design choices of the home together, make a strong first impression on visitors, and dramatically increase curb appeal to passers-by.
For almost 20 years now, Solidor has continued in the fine English tradition of making secure and visually striking front doors. Their innovative designs, coupled with leading-edge manufacturing technologies, have resulted in composite doors that offer unparalleled security against intruders, while at the same time offering you the widest range of customisation. They offer a staggering range of door types, all made to the highest spec, with styling options for both contemporary and traditional homes.
Camberley Glass & Windows is a proud and approved fitting partner of Solidor. Our fitting professionals are standing by to help you choose the type of door and accessories to best match your architectural plans or existing home's features.
Come home to a Solidor with Camberley Glass & Windows.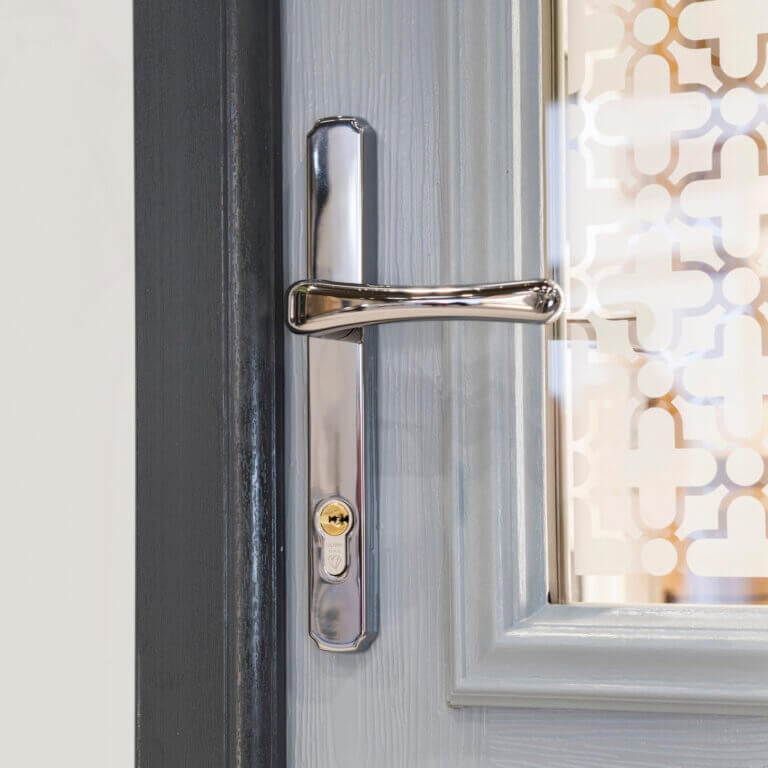 If your home's security is a concern, then a Solidor is a must! They offer industry-leading security features to protect you and yours.
All Solidor composite doors feature a 44mm thick solid timber core as opposed to the much more common foam-filled cores. This has many benefits, both in physical security against intruders, as well as security against the elements. Breaking through a solid timber door is no easy feat. and it's one of the many reasons we're Secured by Design (Police preferred specification) approved. They also feature a lead-free, 5-chamber design for added security and thermal efficiency.
Solidor composite doors also come with an array of locking mechanisms and lock positioning options. Their lever handle composite doors come standard with Avantis Secured by Design 25.4mm deadbolts, currently the largest deadbolt fitted to home doors in the UK.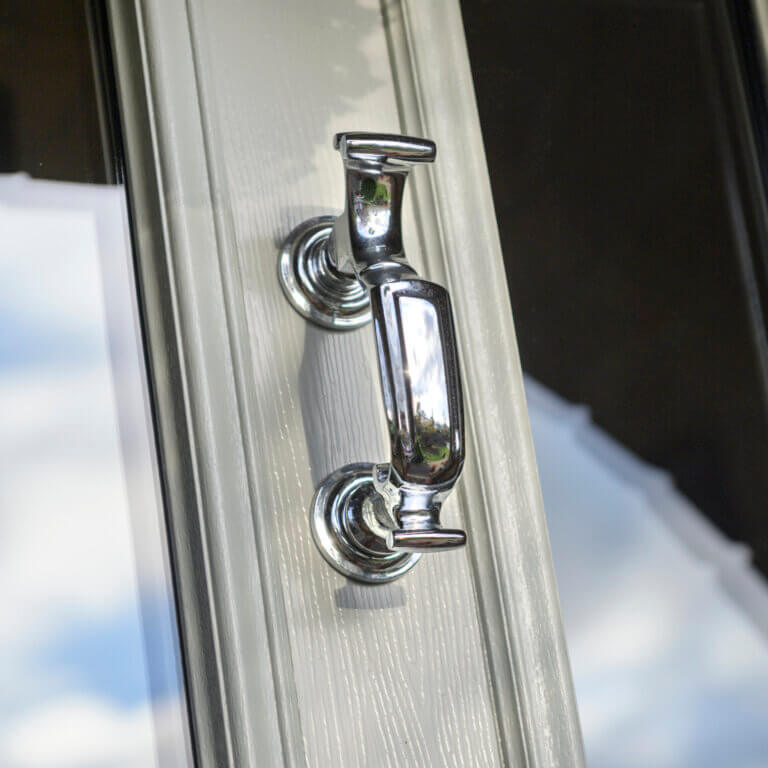 Another popular option is the automatic AV2 mechanical lock. This remote-controlled lock operates using a built-in 12v electric motor to unlock your door from a distance, while offering all of the security of a slam-secure lock.
The AV3 automatic mechanical lock is a multi-point locking system that is operated by magnetic triggers in the frame. It features two self-locking hooks for improved security, while two sealing elements ensure a tight fit and correct closure. It also features a clever daytime release mode for easy one-handed operation.
Solidor is so confident in their Ultion cylinder lock, that they offer £2000 in compensation in the event that an intruder breaks into your home by snapping the cylinder.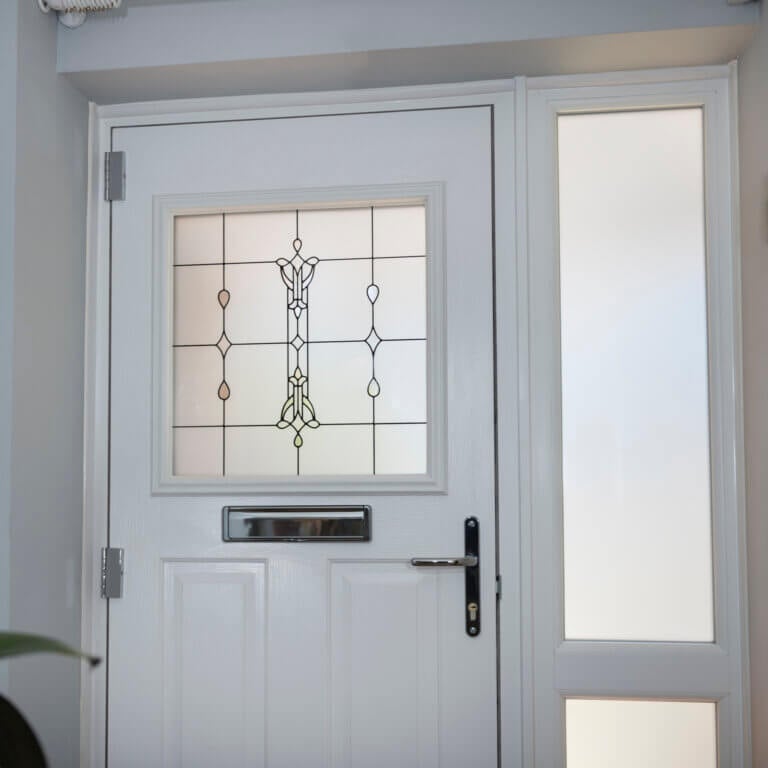 In our opinion, Solidor's greatest strength — other than the physical strength of their doors — is the freedom of choice they offer their clients. Solidor composite doors come in a variety of contemporary and heritage styles, meaning you'll always find an option that suits and complements the rest of your home.
Their Italia Collection, produced in Staffordshire, embodies the spirit of Italian design. They offer the best of contemporary design and can help create and convey feelings of modernity and sophistication when walking up to your home. Whether you're looking at the more low-key Ancona Solid door, or the decidedly more artistic Amalfi door, the Italia collection is sure to turn heads.
Keeping more in touch with traditional British design, the Solidor Traditional Collection brings classic British designs into the 21st century. Many of the doors in this collection feature stunning bespoke glass artwork and inlays that are guaranteed to wow. With many doors to choose from in this extended range, you're sure to find the perfect door for everything from classic Victorian homes to traditional English cottages.
In addition to these fine collections, Solidor also manufactures a range of French doors that allow for maximum natural sunlight to enter your home, as well as stable doors that offer both security and openness at the same time.
The benefits of Solidor doors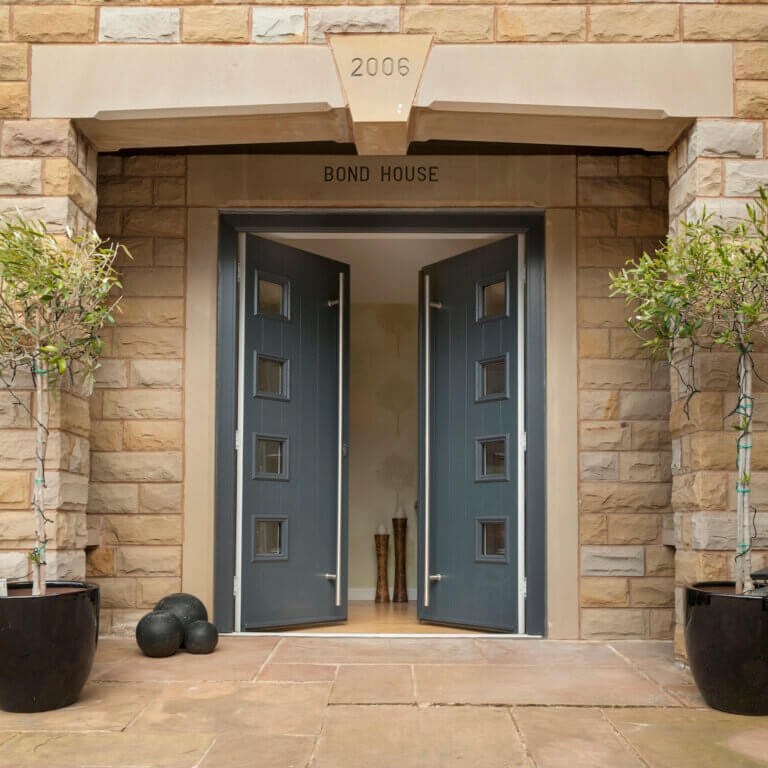 Solidor is a proudly British manufacturer of only the top quality composite doors. This is no surprise as they are PAS 24 approved for enhanced security, accredited for the EN 1279 bsi kitemark for insulating glass units, ISO 9001 certified for Quality Management Systems, CE accredited for health & environmental protection requirements, as well as Secured by Design approved. All of this means that you can trust that your Solidor will meet the strictest criteria for security, insulation and other performance metrics.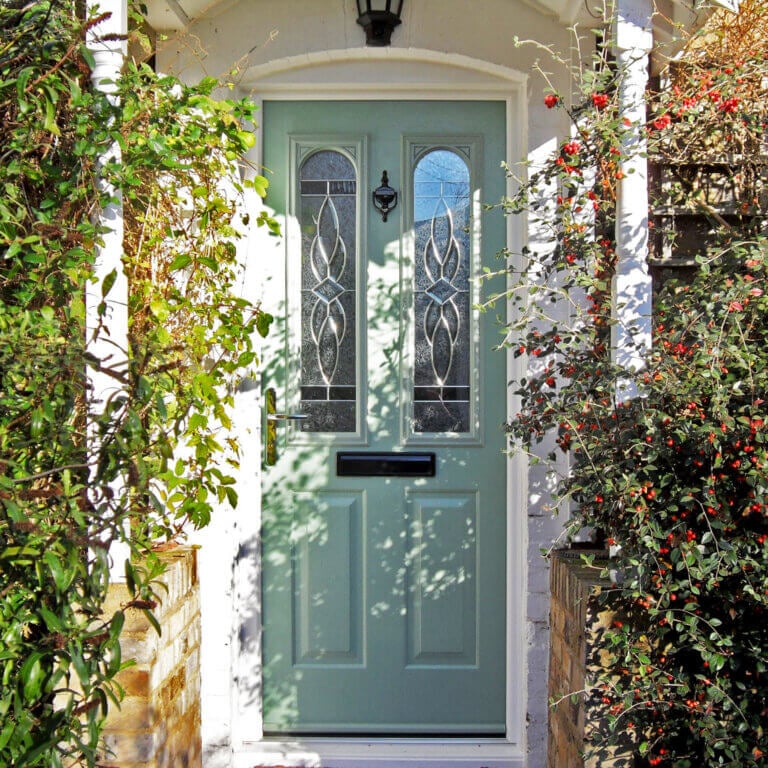 Above and beyond a wide range of door styles from various stunning collections, Solidor composite doors are available in a wide range of colours and finishes. There's also a massive collection of door furniture to choose from, meaning you get to create a one-of-a-kind beauty to suit your home. Choose your own handles, knockers, letterplates, hinges, additional security features such as latches, finishing and edge banding options; or refer to our fitting specialist to help you choose the best combination.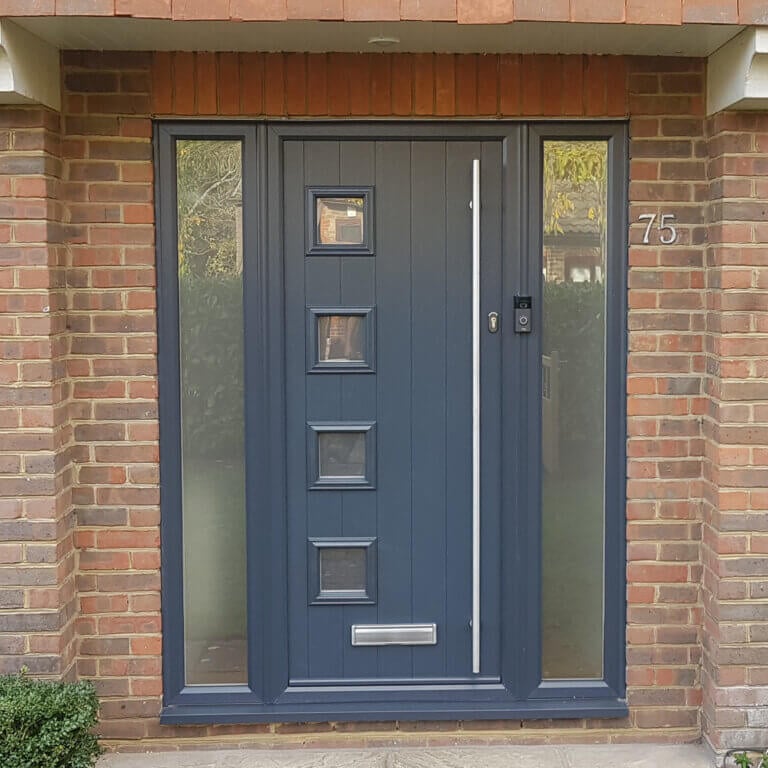 When compared to the features of typical foam-filled doors, Solidor composite doors stand head and shoulders above the rest. In addition to the already-discussed security and customisation options, Solidor doors are thicker, more robust, offer hidden edge banding as opposed to visible edge banding, are coated in long-lasting scratch-resistant ABS skins, have better thermal qualities due to their 5-chamber profiles and require less maintenance.
Request a free quotation with absolutely no obligation to buy. Use our convenient contact form or call us directly on 01276 684444.
Why Camberley Glass & Windows
Exceptional quality and service matched with affordability