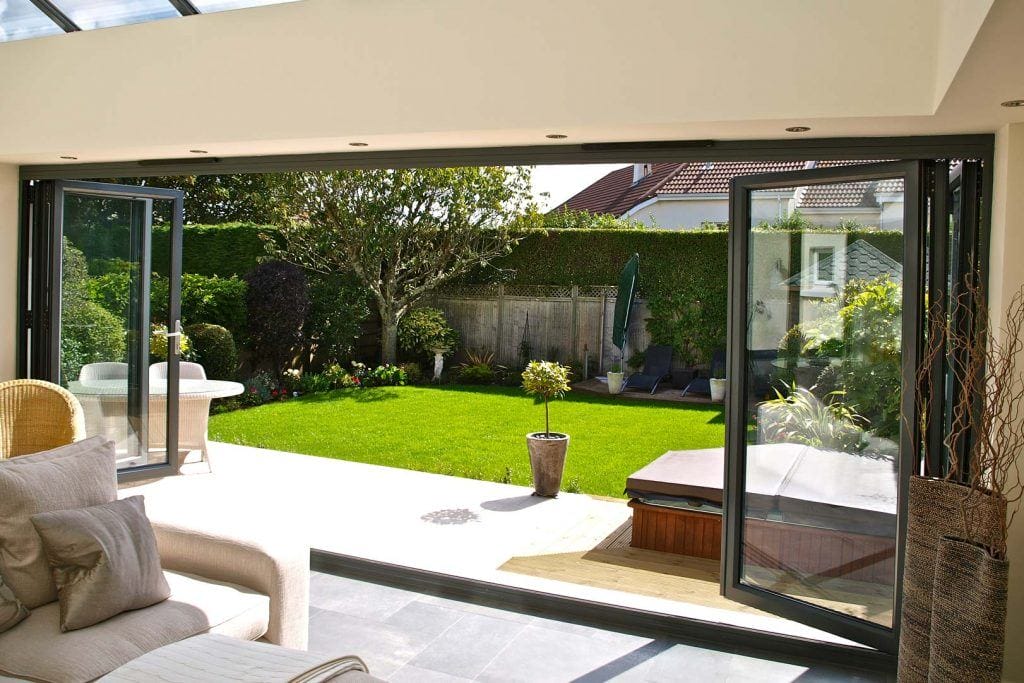 Bifold doors are the 'in vogue' feature in homes today, but how to pick the best?
For many people bifold doors are an extremely desirable feature when choosing new homes, undertaking renovations or building new extensions. They have the 'wow factor' when you view a potential new home and are a very versatile home improvement you can make to your existing house or new build extension which will have immediate impact.
Many people today are looking for homes which allow in maximum light, and bifold doors do this exactly. They are able to combine a touch of luxury with practicality by looking modern and fashionable as well as flooding in light, circulating air and folding neatly back on themselves to save space. Many people love them too because they give an illusion of space, allow a larger floor area for entertaining and unify the house with the garden. They can also fit easily into your decor whether contemporary or traditional.
The decision as to which kind of bifold doors to install needs to be taken with some care because the style needs to complement your home. Also, there are a range of materials, finishes, colours and glazing as well as operating systems and door furniture to consider. How to choose the best can be a confusing exercise.
Are there any regulations I should comply with?
First of all just a heads up about rules and regulations. Adding bifold doors to your house normally comes under the heading of permitted development, so you don't have to apply for planning permission. The only exceptions to this are flats, listed buildings, conservation areas, and National Parks. Flats do not have permitted development rights and consent has to be sought. Similarly with listed buildings and the other designated areas where consent has to be gained from the appropriate authority.
Buy the best quality you can afford
It doesn't pay to skimp on quality when choosing bifold doors. Basically, you get what you pay for, and if you are going to live with the consequences of your choice for a long time it is best to get something you will be satisfied with and will last. The quality of bifold doors is now generally very good. They tend to be lightweight yet strong, with good qualities of draught proofing and security.
What material should I choose?
The choice is essentially between PVCu, aluminium and timber. Most bifold doors in this country are now of PVCu, with aluminium and wood making up a smaller percentage of the market. Aluminium and PVCu are both low maintenance and have a modern appearance, with aluminium being the stronger material, allowing for narrower frames. Timber doors have to be regularly maintained and tend to be of more traditional design. Aluminium is also very resistant to expansion so is ideal for framing large expanses of glass. PVCu is not as resistant to expansion and contraction when exposed to extreme temperatures. The seals on timber doors are quite vulnerable to expansion and contraction, if not maintained properly, due to moisture and heat.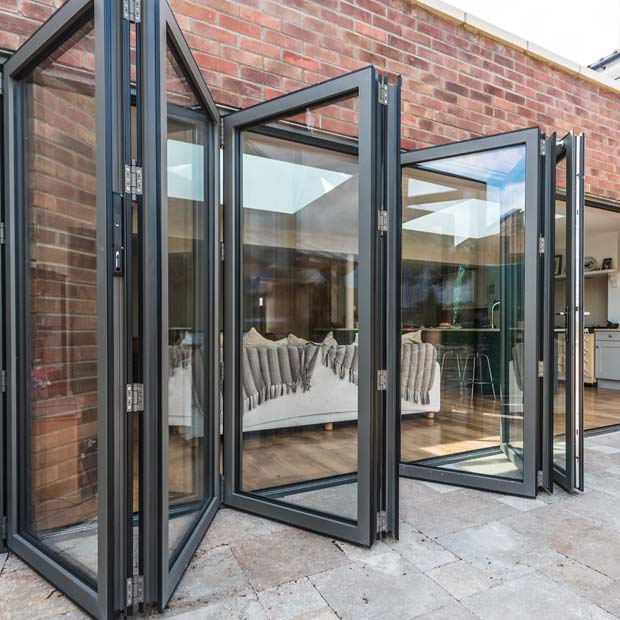 Whilst most of the heat energy from a room is lost by radiation through the glazing, some is lost by convection within the glazing cavity of double glazing. Heat is also conducted through the material of the frame.
Different materials have different rates of thermal conduction. The standard for thermal efficiency is measured by the U value, which is a measure of the rate at which heat passes through the material. Building regulations vary according to whether the building is a new build or an existing structure, and should be checked. But to give an idea, thermal performance for part glazed replacement doors is 1.8W/m2K and 2.0W/m2K for new builds. When choosing the material you should remember that the lower the thermal performance figure the better. Aluminium is a good conductor of heat, but the loss is reduced if a thermal break is included in the construction of the door. For an aluminium door, you want to be at least around 1.4W/m2K. PVCu has an average of 1.7W/m2K and timber about 1.4W/m2K. Camberley Glass bi-fold doors are manufactured to exceed British Trade Standards in energy efficiency and with maximum noise exclusion.
Finishes
The powder coating on aluminium doors allows for just about any colour, and for both metallic and wood effect finishes. You can find coloured PVCu finishes, but most come in white with grey and black as possible variations. It is also possible to get PVCu in wood effect. Timber can obviously be painted in any colour you want, and it is possible to get timber coated in aluminium, but this will probably be more expensive than buying an aluminium door in the first place. Camberley Glass offers an extensive range of bifold doors in both aluminium and PVCu in a wide variety of colours and textures, all guaranteed.
Bifold door sizes
Consider frame thickness. This becomes a factor when you think that all the panels may be concertinaed together to one side of the opening. The width of this pack, for PVCu for example, can be up to half a metre thick. You can cut down on the number of doors by increasing the size of the glazing, but this adds weight to the system. Alternatively, if the opening is a large one the doors could split to either side. You will also need to identify a 'traffic' door, which is the main one to be used for entry and exit. For this reason, it is easier if you have an odd number of panels in the system since in that case only one door needs to serve as the 'traffic' door. Camberley Glass provides made to measure doors, opening to any configuration of your choice.
Thickness of frame
An aluminium frame is by far the thinnest and lightest option, and it also gives the advantage of less restricted views when compared to PVCu. Timber is going to be thinner than PVCu, but not as thin as aluminium. Timber on a south facing door will take a lot of punishment from the effects of the sun, and in this situation regular maintenance is vital.
Best bifold door material
In the final analysis, for low maintenance, strength and thinnest profiles aluminium wins, but at a price. PVCu offers a huge price advantage over aluminium, but is not as strong, and does not require the maintenance of timber. Timber can be finished in any colour or stain, but is not as thin as aluminium and requires frequent maintenance
Components: how bifold doors work
Bifold doors work on a track and roller system. There is usually a track at the top in which the rollers run to enable the door to move smoothly. The best systems have a track at top and bottom for added stability, and with security, pins to make them safe and secure. The door furniture should be an integral part of the system rather than 'add-ons'.
Bifold doors cost
For a four panel bifold door in aluminium, you could expect to pay about £3,000 to £4,000. Timber is of a comparable price, but PVCu should be about half the price. Prices will vary because of installation costs. Camberley Glass provides a start-to-finish service, including design and build, with a dedicated project manager.
Choose a reputable supplier and fitter
Whatever decision you make choose a reputable supplier and installer with accreditations. Camberley Glass has the following accreditations: BSI, UKAS, FENSA, BBA, PASMA, and they can also be found on the Checkatrade directory of recommended, reliable and trusted trading companies that have been vetted and monitored as meeting the standards of the directory.
If you would like further advice on choices of bifold doors please get in touch on 01276 684444, or come and see all our products on display at our showrooms in Camberley.